"Paco de Lucía told us to bring the flamenco guitar to a new generation with our own repertoire." (Jan Pascal & Alexander Kilian)
CAFÉ DEL MUNDO SYMPHONIC
Currently our world shows how important it is to overcome borders, to bring people together and to awaken the creative beauty slumbering in everyone. And what better way to do that than with music, the most universal of all languages. As German flamenco guitarists – thus exotic in an already exotic niche anyway – Jan Pascal and Alexander Kilian alias "Café del Mundo" have been on a mission for more than 15 years to free their instrument from its shackles, to expand its possibilities and bring it to a wide audience. After taking miles and stones, they now take a big leap. Their new album "Café del Mundo Symphonic" brings together, perhaps for the first time in music history, a flamenco guitar duo with a symphonic orchestra. And not with just any orchestra in just any studio, but with the Royal Philharmonic Orchestra – probably the world's most experienced and best ensemble for encounters between classical music and pop – in the legendary Studio 1 of the even more legendary Abbey Road Studios. A creative hotspot, where the Beatles, David Bowie, Maria Callas, Edward Elgar and countless other stars made music history, where John Williams, John Barry or Alexandre Desplat made film music history, in what is still the largest recording studio in the world, that specific room from which the BBC broadcasted the message "all you need is love" to 400 million people back in 1967. Pure musical pleasures now emanate from this place again. Jan Pascal, the composition mastermind of the duo, has selected the most suitable pieces from the entire Café del Mundo oeuvre for the project. The album thus forms a perfect arc – from "Spread Your Wings", which draws the listener into this magical combination of guitars and orchestra, to "Beloved Europa", the final hymn to our common cultural heritage. No piece could stand in a different place, nothing repeats itself, each one opens a new window into the almost unlimited melodic, rhythmic and harmonic diversity that is to be found in this instrumentation. "Café del Mundo Symphonic" becomes a masterpiece also through teamwork. Christian David Rheber has written the outstanding orchestral arrangements, which finesse-richly lend to all pieces orchestral power and emotional depth, without ever covering the filigree and virtuoso guitars. Conductor Richard Balcombe brings out all the nuances in the orchestra and makes it dance, in keeping with the rhythmic character of the music. Finally, sound engineers Andrew Dudman from Abbey Road Studio and Michael Thumm from Bauer Studios ensure the captivating outstanding recording quality. Everyone involved was already overwhelmed by the result in the studio – even one unexpected very special guest, Sir Paul McCartney, who felt reminded of his previously unreleased "Spanish Concerto", which he wrote many years ago. Café del Mundo's music has always been audibly limitless. Now it has become highly cinematic. Another stage of the mission has been accomplished, while the journey has just begun.
Oliver Hochkeppel, Süddeutsche Zeitung
INFO BOX
name: CAFÉ DEL MUNDO Symphonic
orchestra: Royal Philharmonic Orchestra, London
conductor: Richard Balcombe
tracks: 12 | playtime: 55:10
genre: classical cross over
recording: Andrew Dudmann
studio: Abbey Road Studio 1
mixing: Michael Thumm
mastering: Johannes Wohlleben studio: Bauer Studios, Ludwigsburg
cover-photo: Elena Vizerskaya
booklet-photos: René van der Voorden
graphic design: UCgraphic, Heidelberg
band album no.: ten
release: 15.05.2023
vinyl release: 15.10.2023
label: vision-in-music, LC 14696
editor: GLM publishing, Michèle Claveau, Georg Löffler
promoted by mundo-promotion
physical worldwide shipping: mundoshop
digital: mundo-App Vol.2
CAFÉ DEL MUNDO @ ABBEY ROAD (EPK)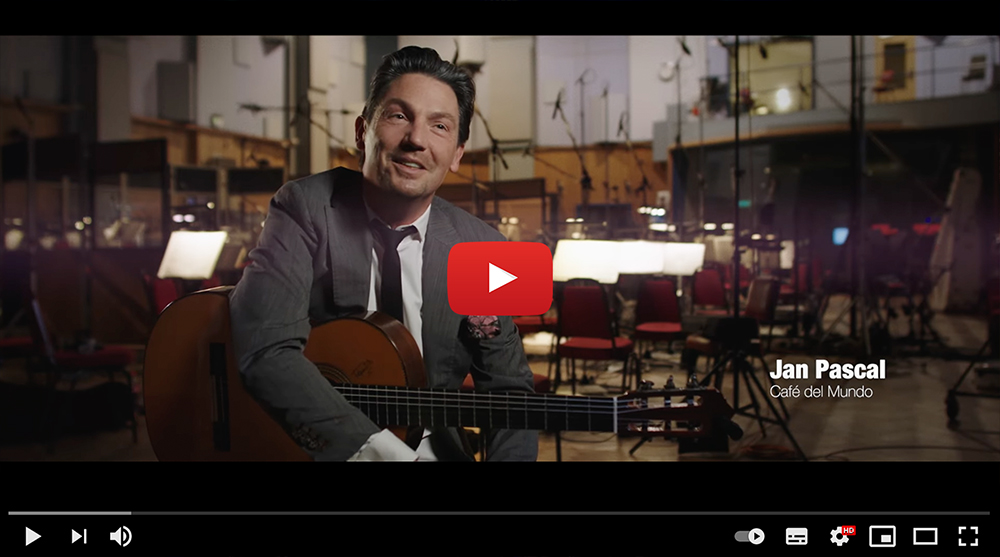 JAN & ALEX ABOUT THEIR SONGS
"Joy is like the sun breaking through the clouds. Its dwelling place is beauty and it is always just a blink of an eye away. DANCE OF JOY is the childlike joy of playing with a repeated minor third. We wrote this song in 2007 when we met for the first time. This tiny small theme became one of the first pieces we arranged and performed together. JOY therefore became the main theme of our creationship.
---
EASY builds the soundtrack for a perfect summer day with everything that makes it special: good friends, lightness, water, sun and cheerful get-togethers.
---
The Solea JUEVES was composed in 2014 after a coincidental encounter with a man and his puppy that he found on a Thursday. The two became friends for life. We set our tones for it in the old flamenco form so called "Soleares" which are profound flamenco pieces that trace the feeling of solitude.
---
HOMENAJE A PACO is a bulería. It is dedicated to the one and only guitarist who wrote into our hearts how guitar has to sound alike, Paco de Lucía. Thank you Paco!
---
SPEAD YOUR WINGS was written in Tuscany. We played a concert and at the same time there was an exhibition named "Labyrinth" by Italian artist Luca Serasini. A methaphor appealed to us and finally became music: "We have to continually be jumping off cliffs and developing our wings on the way down".
---
YOU ARE THE LIGHT describes the feeling that there is a light shining in each of us. Sometimes we need a counterpart to remind us and help us get back into our glow.
---
FUER ULYSEE plays with the idea of how music would sound if Johann Sebastian Bach played the guitar together with Carlos Santana. Of course, a little reminiscence of Beethoven must not be missed.
---
EL MURCIÉLAGO is the Spanish word for a bat, heraldic animal of the city of Valencia and symbol of the headstock on Alexander's guitar. According to legend, the animals once helped to protect the city from attackers.
---
ARABIAN NIGHTS has become one of our classics. It is inspired by an encounter with authentic Bedouins somewhere in the arabic desert. The composition holds the idea of the meeting of Orient and Occident in the sound of the string instruments.
---
SPACE GITANOS is our interim answer to the big question of life, who are we, especially as two German flamenco guitar players. It is based on the idea of putting music into an atypical flamenco rhythm.
---
LEON DORMIDO, the sleeping lion, is a so called mountain in the Aitana Mountains area which, seen in a certain light, takes form alike. In a persistent sleep, our lion dreams and twitches from time to time with his paw.
---
BELOVED EUROPA was created on the album of the same name in 2017. We were invited to play on the Greece island of Samos highly frequented by refugees. Our glossy world rubs harshly against the existential plight of war refugees arriving from nearby Turkey often swimming. Reactionary we felt to dedicate a hymn to the beautiful Europa, the mythological figure in need. To our delight, Christian incorporated the Ode to Joy theme."
CAFÉ DEL MUNDO
Ten thousand concert visitors per year, standing ovations, and a fan cult on the level of a rock star's – welcome to Café del Mundo, Germany's hottest Flamenco guitarists. Yes, you've read correctly: Germany's hottest Flamenco guitarists. This is unusual, this is unique, this is the pure essence of guitar, and a long-awaited expansion of an instrument that up until now has only been known in relation to traditional music.
Guitarists Jan Pascal and Alexander Kilian are as opposite as fire and ice – and yet, this is exactly what makes them a world-class music act. Their live performance is a captivating dialogue amongst two highly gifted virtuosi, flattering and at the same time challenging each other, always coaxing the best from one another.
However, these two instrumental artists are far more than straight-forward entertainers: with their art, they show tremendous integrity, committing themselves to pure, genuine music, issuing an artistic statement in a wildly fluctuating world.
Be surprised at the incredibly musical diversity of two Flamenco guitars, with a repertoire that spins a fine thread between classical and jazz, techno and world music.
Have a listen, immerse yourself and discover the "hearably endless" (Sueddeutsche Zeitung, Germany) vastness of Café del Mundo! #guitarizetheworld
Jan Pascal, born in 1975, comes from a family of musicians. He received his first guitar as a present from his grandfather in Spain, and his first lesson from an uncle. He grew up at his Silesian grandmother's, amongst church musicians, sopranos and organists, and later in the prestigious Benedictine monastery boarding school, Münsterschwarzach, where he received lessons in piano. After lessons in singing and classical guitar in Heidelberg, he started his own recording studio in 1996. Jan attended master classes in Flamenco guitar with Rafael Cortes and Mariano Martín.
Alexander Kilian, born in 1987, is regarded as a child prodigy at the guitar. He received his multicultural musical education from Zaza Miminoshvili. At the age of 15, Alexander won his first international contest with the piece "Guajiras de Lucia" by Paco de Lucia, followed by numerous master classes and concert invitations to Israel, Russia, Georgia, Spain and Italy. In 2011, he received the art diploma for jazz guitar.
In 2007, Jan and Alexander met at a Flamenco Guitar workshop, and they immediately clicked. Since then, they've composed several joint albums; "Nuevo Cuarteto" (2008), "Café del Mundo (2012), "La Perla" (2014), as well as a live recording, "In Passion" (2015). In 2015, "Dance of Joy" was released, a remake of their first joint compositions. Their latest album "Beloved Europa", released in 2018, is a diverse compilation filled with compassion, and delivered with genuine intent
Having started with 40 live acts, they now perform a good 120 concerts per year across Europe, including the UK, Italy, Germany, France, Spain, Switzerland, Austria, Czech Republic and Poland – with invitations to renowned music festivals, such as Rheingau-Music Festival and JazzOpen Stuttgart (both Germany), or Slask Days (Poland).
Some recent milestones include: an invitation to Paris; a concert at legendary Ronnie Scott's Jazz Club London; a recording at Abbey Road Studios London.
Home of CAFÉ del MUNDO
#bandphotography #bandpics #concert #bandfotografie #bandfotos #promotion #music #photography #photographer #plakate #cdcover #covershoot #mediumformat #GFX100 #premiumquality #midformat #mittelformat #behindthecamera #musicpromo #artist #musician #bandpromotionalwork #norfolkartist #newmusic #logo #newbands #newartist #featuredartist #followus #promo #shots #lovemyjob #VoordenGraphy
Coverfoto by Elena Vizerskaya
Bookletfotos by René van der Voorden // www.VoordenGraphy.com